K9 Surface-mounted illuminating Switch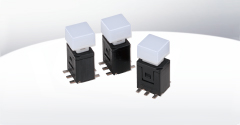 FEATURE
Surface-mountable terminals for fast, reliable connection
Pioneering manufacturing techniques prevent slanting and twisting during mounting, which improves counting accuracy and reduces corrections of bent switches and defects.
Easy to assemble modular switch design features separate body and lighting section. Body is mounted to PCB and then assembled with the lighting section.
Stable, consistent color and brightness
LED color Single and dual-color (red/green, red/super green)
Lighting section
9 mm size (Flat button).
High-density mounting with a 15mm pitch.
300,000 lifetime actuations, stroke 1.5mm.
Ideal for command workstations.
DEMENSIONS